12Nov2007 – 1406hrs | by keymistress
Simone's Butterfly
Simone loves to swap and I really like her digital scrapbooking swaps, but read on and you'll find very personal entries about her life and her family. I think it's very interesting to read her blog compared to some other bimbotic websites that I'm guilty of surfing where they do nothing but whine about their materialistic life. Take some time to read, a penny for your thoughts.
At Zakka Zakka
Review by Rachel from Rachel: Words & Things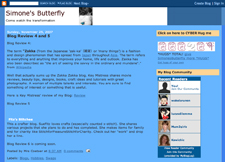 Simone's Butterfly is the blog of Simone who has been keeping the online journal since October of 2006. her blog is dedicated to personal growth, health and wellness, swaps, and everyday-type stuff. She recently posted about digital scrapbooking which I find interesting, and she posts lovely photographs for "Wordless Wednesdays". Overall her blog is very honest and inspirational.
Review by CIYOU from
Colours City
Simone's Butterfly is a blogger from South Africa. Digital Scrapbooking of her's is one of my favorite things to see along her blog. She also shares alot of tips on heath and exercise, motivation song, her daily life too. We share the comman favorite color of blue ~.
If you like digital scrapbooking and health articals, do visit her Simone's Butterfly blog.