Photos from Busy Cook at About.com
DINNER
STARTER:
Cucumber Cups


6 medium cucumbers
1 (8-ounce) container red pepper hummus
1(8-ounce) container lemon hummus
Chopped chives for garnish


1.
Create decorative stripes on the sides of the cucumbers using a vegetable peeler (for wide stripes) or a citrus zester (for thin stripes). We did a combo of the two, as shown above.

2.
Cut the cucumbers crosswise into 3/4-inch-thick rounds. Using a teaspoon or melon baller, scoop out the seeds to form a well, about 1/3 inch deep, in each slice. (A great job for kids!)

3.
Spoon about 1/2 tablespoon of the red pepper hummus into the wells of half of the cucumber cups, mounding it slightly. (For a fancier look, use a pastry bag fitted with a large star tip and pipe in the filling.) Repeat the process with the lemon hummus and the remaining cups.

4.
Sprinkle all with chopped chives. Serves 20 (makes about 64 cups).
Obviously you can make less depending on whether its just dinner for two, a family dinner or a dinner party
.
MAIN COURSE
:
Simple Feta Cheese Salad
INGREDIENTS
30 g crumbled feta cheese
12 cherry tomatoes, thinly sliced
0.5 onion, diced
15 ml olive oil

15 ml lemon juice
DIRECTIONS
In a bowl, mix the feta cheese, cherry tomatoes, onion, olive oil, and lemon juice. Serve immediately.
Chicken and mushroom pasta
Ingredients
- 4 Chicken breasts (or if you're really poor packaged sandwich chicken slices)
- Pasta
- A tin of condensed mushroom soup
- Chopped mushrooms (as many as you want)
- A bag of plain ready salted crisps
- Cheese
Method
Cook your pasta. Chop up then fry your chicken until cooked. Add your pasta, chicken, mushrooms and tin of soup into an oven dish, stir it all together. Crush your crisps and sprinkle them over the top, grate your cheese and spread it over the crisps. Cook in the over for about 15 minutes.

If you want to add more veg you can, try adding some garlic and celery. It's up to you.

DESSERT
:
(Planning to make my daughter's Birthday cake like this - she turns 8 on 13 Feb)
How to Make a Heart Shaped Valentine Cake

by Jane Lake



You don't need a heart shaped cake pan to make a heart shaped Valentine cake - just improvise with more readily available square and round cake pans.
You will need: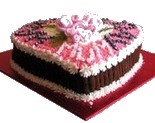 8 or 9 inch square cake pan


8 or 9 inch round cake pan


homemade or purchased cake mix and icing for two cakes


Valentine cake decorations - heart shaped sprinkles, chocolate kisses, cinnamon hearts, conversation heart candies etc.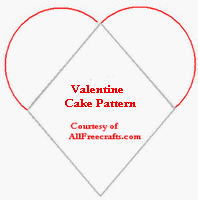 What You Do:

1. Prepare and bake a square cake and a round cake. Let both cakes cool.

2. Cut the round cake in half.



3. Following our diagram, place the square cake on a plate or serving board so that it becomes a diamond shape.

4. Position the two half circle cakes, as shown, on either side of the top part of the diamond to form a heart-shaped cake. Cut and trim, if needed, to make the cake sections fit together properly.

5. Cover the cake with icing and decorate as desired.
Lindsay Larson's
Step by Step guide
with photo instructions is SO simple to follow - I am still deciding whether to make a chocolate or pink cake .......