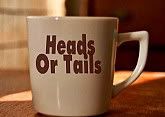 I love cups/mugs. I had to smuggle two mugs one for my daughter and one for me when moved to Northern Ireland because we had decided that we would sell or give away all our household goods. My husband didn't see the point of taking mugs when we were going to a house that was fully equipped with what we needed.
I had to weigh the pros and cons of adding weight to my bag for the trip and decided I could afford to take at least two mugs/cups. Thought it would be good for my daughter to have some connection so I took her birthday Princess cup. Choosing mine was a bit more difficult and had two cups that were gifts from learners etc. Finally decided on the mug I got in my swap - it was a Coffee Swap. Had my favorite color blue and good memories attached to it and I liked its design.
So far I have resisted the temptation to buy a lot (not enough space) but ove the last month or so a number of cups and mugs have gotten chipped or broken and I am looking forward to legitimately replacing them :).
My most priced cups are sitting at the moment in a box in Cape Town. They are British China cups that used to belong to my Grandma. At one stage a shop in South Africa was selling one cup and saucer for R150.00. There are not any brand names on them so their value is unlikely to increase. Just love to have an English tea party with them again (even though I prefer coffee - LOL).